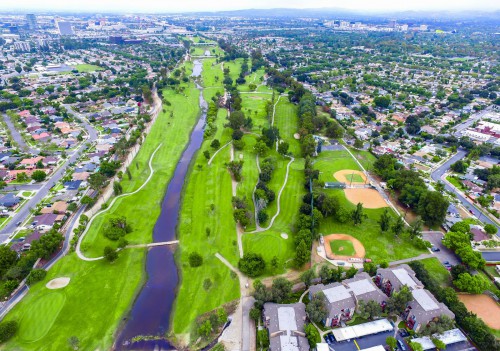 Santa Ana Golf at Its Finest
Mere minutes away from Disneyland, Anaheim, Long Beach and Irvine, River View Golf Course is an 18-hole Santa Ana golf course featuring 6,190 yards of golf from the longest tees for a par of 70.
River View is one of Orange County's favorite golf courses for golfers of any skill level to play. Our Santa Ana golf course will challenge you, while providing a relaxing, picturesque backdrop — especially during the early morning and twilight hours. River View boasts beautiful elevated tees and greens, as well as seasonal water hazards courtesy of the Santa Ana River.
River View has a night lit driving range with target greens and pins in distances of 10-300 yards. Our pro shop offers great rental clubs for our vacationing guests to use during their round. All in all, our goal is to provide you with a quality experience that includes exceptional service and a comfortable atmosphere.
So whether you usually play Tustin golf courses, Irvine golf course, or any other Southern California location; River View should be a destination that is on your normal rotation. There is a reason so many local Orange County golfers come play the River View golf course.
| Hole | 1 | 2 | 3 | 4 | 5 | 6 | 7 | 8 | 9 | Out |
| --- | --- | --- | --- | --- | --- | --- | --- | --- | --- | --- |
| Blue Tees (68.4/120) | 325 | 178 | 199 | 392 | 545 | 195 | 375 | 525 | 110 | 2844 |
| White Tees (65.6/115) | 305 | 164 | 185 | 363 | 528 | 181 | 355 | 477 | 96 | 2654 |
| Red Tees (67.9/120) | 289 | 157 | 165 | 350 | 457 | 156 | 317 | 464 | 91 | 2446 |
| Handicap | 15 | 11 | 5 | 1 | 7 | 3 | 9 | 13 | 17 | |
| Par | 4 | 3 | 3 | 4 | 5 | 3 | 4 | 5 | 3 | 34 |
| Hole | 10 | 11 | 12 | 13 | 14 | 15 | 16 | 17 | 18 | In | Total |
| --- | --- | --- | --- | --- | --- | --- | --- | --- | --- | --- | --- |
| Blue Tees (68.4/120) | 198 | 340 | 470 | 548 | 160 | 480 | 418 | 538 | 194 | 3346 | 6190 |
| White Tees (65.6/115) | 184 | 328 | 447 | 486 | 148 | 461 | 374 | 513 | 181 | 3122 | 5776 |
| Red Tees (67.9/120) | 172 | 313 | 436 | 454 | 140 | 434 | 357 | 429 | 169 | 2904 | 5350 |
| Handicap | 8 | 10 | 2 | 16 | 12 | 18 | 4 | 6 | 14 | | |
| Par | 3 | 4 | 4 | 5 | 3 | 5 | 4 | 5 | 3 | 36 | 70 |